DTC P0500 Vehicle Speed Sensor "A"
Description
The skid control ECU outputs a signal that is proportional to vehicle speed. This signal is based on the rotation of the ABS wheel speed sensors. After this, the signal is converted into a more precise rectangular waveform by the waveform shaping circuit inside the combination meter. It is then transmitted to the ECM. The ECM determines the vehicle speed based on the frequency of this signal.

Toyota fault code list DTC P0500
DTC No.
DTC Detection Condition
Trouble Area
P0500
Conditions (a), (b) and (c) continue for 7 seconds or more:
(2 trip detection logic)
(a) Engine coolant temperature is more than 70°C (158°F)
(b) Engine speed is between 2,000 rpm and 3,500 rpm
(c) No speed signal is input to ECM

Open or short in speed sensor circuit
Skid control ECU
Combination meter
ECM
Wiring diagram

Inspection procedure
NOTICE:
After replacing the ECM, the new ECM needs registration and initialization.
1.CHECK OPERATION OF SPEEDOMETER
Drive the vehicle.

Check the speedometer reading in the combination meter.

 

HINT:

If the vehicle speed sensor signal is inaccurate, the speedometer will show abnormal readings.

 

 

OK:

Speedometer operates normally.
CHECK SPEEDOMETER CIRCUIT (INCLUDE SPEED SENSOR)

 
2.READ VALUE OF VEHICLE SPEED
Connect the intelligent tester to the DLC3.

Start the engine and turn the tester ON.

Enter the following menus: Powertrain / Engine and ECT / Data List / Vehicle Speed.

Check the vehicle speed at an engine speed of 2,000 rpm or more while the vehicle is running.

 

OK:

Same value as actual vehicle speed.
CHECK FOR INTERMITTENT PROBLEMS

 
3.CHECK WIRE HARNESS (COMBINATION METER - ECM)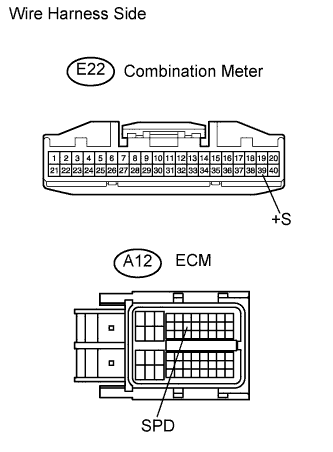 Disconnect the E22 combination meter connector.

Disconnect the A12 ECM connector.

Measure the resistance of the wire harness side connectors.

 

Standard resistance:

| | |
| --- | --- |
| Tester Connection | Specified Condition |
| E22-39 (+S) - A12-14 (SPD) | Below 1 ? |
| E22-39 (+S) or A12-14 (SPD) - Body ground | 10 k? or higher |

Reconnect the combination meter connector.

Reconnect the ECM connector.
REPAIR OR REPLACE HARNESS AND CONNECTOR