DTC P0191 Fuel Rail Pressure Sensor Circuit Range / Performance
Description
The ECM monitors the internal fuel pressure of the common rail using the fuel pressure sensor, and controls the suction control valve to regulate the common rail pressure to the target pressure determined by the ECM. The pressure sensor is a semiconductor that varies its electrical resistance when pressure is applied to its silicon chip. This sensor outputs a voltage in proportion to the common rail fuel pressure.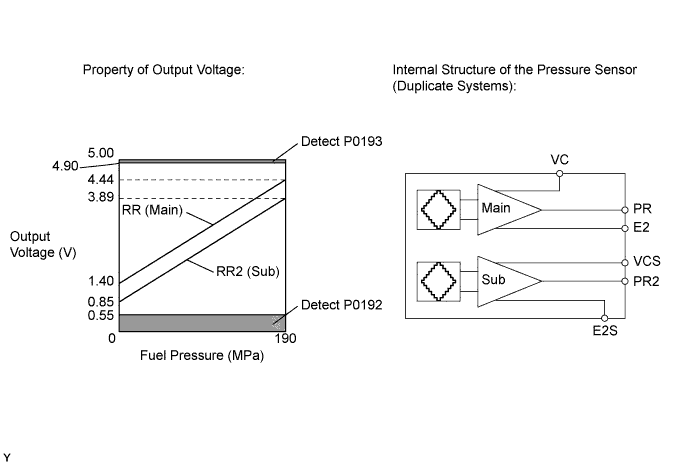 Toyota fault code list DTC P0191 2AD-FHV
DTC No.
DTC Detection Condition
Trouble Area
P0191
Voltage output of the fuel pressure sensor for the common rail is out of the standard range
(1 trip detection logic)
Fuel pressure sensor
Inspection procedure
HINT:
If DTCs P0087, P0190, P0192, and P0193 are output simultaneously, the manifold absolute pressure sensor circuit may be open or short. Perform troubleshooting for these DTCs first.
Connect the intelligent tester to the DLC3.

Turn the ignition switch on (IG) and turn the tester ON.

Enter the following menus: Powertrain / Engine and ECT / DTC.

Read DTCs.

 

Result:

| | |
| --- | --- |
| Display (DTC Output) | Proceed to |
| P0191 | A |
| P0191 and other DTCs | B |

HINT:

If codes other than P0191 are output, perform troubleshooting for those DTCs first.
A
 
 
 

REPLACE COMMON RAIL ASSEMBLY (FUEL PRESSURE SENSOR)